Perfectionists like their bacon perfectly straight, perfectly crisp, every time. They don't want to mess around with a little bit crispy, a little bit not. And they surely do not appreciate it when their bacon twists and curls in all different directions. No. Perfectionists want their bacon to look like it does on TV commercials, and to taste like it does in restaurants. Perfectionists bake their bacon in the oven. This method is also used in most restaurants. Since chefs have to produce such large amounts of bacon, cooking on the range just isn't efficient.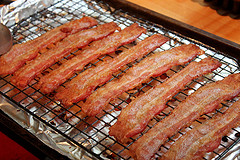 Cooking Instructions: Leave oven cold. Arrange the bacon on a slotted broiler tray (or something similar) with a catch tray beneath it for the bacon grease and put in the oven. Turn on the oven to 325 for 20 minutes then pull it out – should be perfect, but be sure to keep a close eye on it because bacon can go from crisp perfection to charred blackness in a matter of minutes.
Since the grease falls into another pan as the bacon cooks, this version is slightly less messy and less dangerous — there is no worry of being burned by sputtering grease from the pan. With this method, bacon comes out evenly cooked, every time.